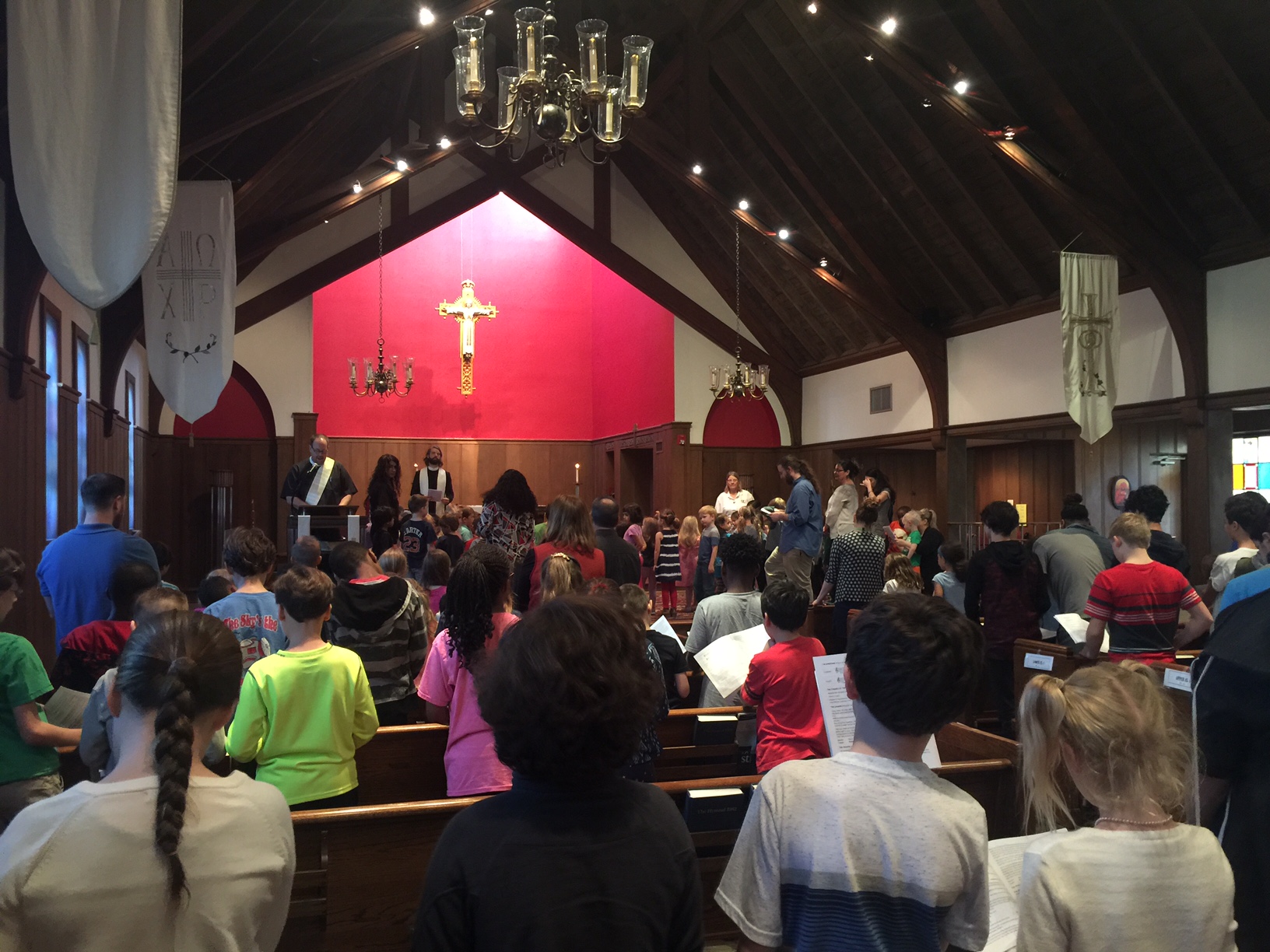 Episcopal tradition reminds us that habits of prayer shape belief. We believe structured prayer connects us with tradition and fellow Episcopal schools, along with providing assurance, comfort, and familiarity. Through weekly, age-appropriate Chapel, we hope to make meaning out of our practices and rituals. For example, we stand during prayers because we are people of resurrection. We come forward to receive Communion out of the belief we are also called to offer who we are to God during this holy encounter. We pray for the dead because we believe that any gathering of faith transcends space and time in the communion of saints. We sing hymns of praise in joyful response to God's abundant provision for the world.
Orientation Chapel (15 minutes) includes assistance with ritual elements such as candle lighting and bell ringing, prayers for family and celebration of birthdays.

Primary and Lower Elementary Chapel (30 minutes) involves participation in ritual elements, music and engaging lessons based on the Catechesis of the Good Shepherd curriculum.

Upper Elementary and Middle Years Chapel (30 minutes) incorporates commonly used worship songs, student-read poems and scripture passages, and engaging homilies focused on moral development with an eye to culture and current events.
St. Stephen's values the richness of diversity in all aspects - including religious affiliation. As such, we invite all students and faculty - Episcopalians and non-Episcopalians, Christians and non-Christians, and people of no faith tradition - both to seek clarity about their own beliefs and religions and to honor those traditions more fully and faithfully in their own lives. Chapel experiences often incorporate other beliefs and teachings. Parents are always welcome to pray with us in Chapel each Wednesday, beginning with the 15 minute Orientation Chapel at 8:25 am. Our monthly All-School Chapel begins at 8:30 am.