ANITA LONG: 2020 DIFFERENCE MAKER
This being the Difference Maker Award, the first question is, "How has Anita Long made a difference?" It turns out, that's a long story.
Anita Long is an educator, storyteller, filmmaker, and social entrepreneur. Her professional life has been dedicated to combining these disciplines to make a difference in the communities she has been a part of. At present, Anita is using her skills to combine filmmaking and education in an effort to raise the next generation of filmmakers as responsible, thoughtful storytellers.
Anita, an International Baccalaureate® (IB) Film Making Professional (Rice University) and a graduate of Leadership Texas, received her formal training in Non-Profit-Fund Development (Indiana University School of Liberal Arts at Purdue).
Her programs currently focus on the 6th through 8th grade. They are also part of curriculum development from the 4th grade extending through college-level courses for high schools, including AP and IB programs. She has spent over three decades training youth in filmmaking that is socially responsible and compassionate. As Executive Director for a National Service-Learning initiative, she also built a curriculum for teachers and encouraged youth across America to document the lives of veterans.
Ms. Long is the owner of Long Films Studio and is the Immediate Past President of Women in Film and Television - Houston. She is a Film Advisory Committee Member of the Houston Community College Media Arts & Technology Center for Excellence in Filmmaking & Music Business Program, and is a Los Angeles NARIP (National Association of Record Industry Professionals) Film and TV Board Member.
She is Vice-President of the Federation of Houston Professional Women, which combines over 35 women's organizations to foster diverse relationships and scholarships and to build collaboration for positive change in our community. Anita also served as a board member and media-relations for Compassionate Houston.
Ms. Long's awards include medals from the Smithsonian Institute's Permanent Research Collection for "visionary use of information technology to effect positive educational, political and economic change in society". Her work is published in the Library of Congress and is part of the collections of more than 30 museums and libraries around the country. Her award-winning ways are passed on to her students at St. Stephen's, who received two Golden Key Film Awards from the Texas Holocaust and Genocide Commission.
Fun fact, Anita Long is the daughter of legendary guitarist Huey Long, who was an original member of The Ink Spots.
Anita Long completely embraces the idea of giving back, of making a difference in the community. She said, "We each have our own way of being different in order to make a difference. My way is that I really like to help other people make a difference. So, in thanking everyone for the difference maker award, I'd really like to thank all of you for letting me help you make a difference here at St. Stephen's. Thank you."
---
ELMA BARRERA: 2019 DIFFERENCE MAKER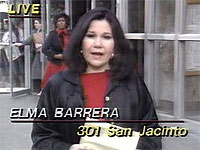 During the 2019 student film festival at the River Oaks Theatre, Holli Richardson and Jerri King presented journalist Elma Barrera with the first annual Difference Maker award to recognize Barrera's groundbreaking work in television, film, and radio. As Houston's first female Hispanic television reporter, she covered a wide variety of local, national, and international stories for ABC Channel 13. During her time with Channel 13, she also worked at Channel 8, where she produced and anchored a weekly 30-minute Spanish speaking program which, at the time, was unprecedented in the Houston television industry.
Through her experience in television and radio, she was one of two founders of Houston's first Spanish-language television station, Channel 45. Her devotion to her city did not stop at the end of her reports, as Ms. Barrera also donated much of her time and energy to the community. She was one of the founders of the Houston Hispanic Chamber of Commerce and moderated Viva Houston and countless other community affairs programs. Recently, she has worked to help underprivileged kids attend Houston's many cultural venues such as the Alley Theatre, the Symphony, and museums. This effort has resulted in a full-fledged campaign to raise funds to support Furr High School's recent designation as a fine arts magnet school. From this campaign, children from Houston's working-class families will have new opportunities to study the arts and culture.
Ms. Barrera's hard work and efforts have not gone unnoticed. She has been recognized with numerous awards for her television reporting and community service. In 2000, The National Association of Hispanic Journalists named her one of the inaugural inductees into its newly created "Hall of Fame," and the White House chose her as one of four local organizers of the first International Women's Conference, which hosted several former first ladies in Houston. Elma also received the Jade Award for Excellence from Women in Film & Television.
Elma passes her legacy of self-induced drive and ambition to the next generation of Latinos through the resources she has provided to the Houston community.