ELMA BARRERA PRESENTED WITH FIRST DIFFERENCE MAKER AWARD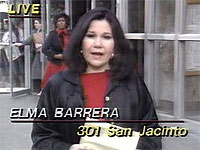 During the 2019 student film festival at the River Oaks Theatre, Holli Richardson and Jerri King presented journalist Elma Barrera with the first annual Difference Maker award to recognize Barrera's groundbreaking work in television, film, and radio. As Houston's first female Hispanic television reporter, she covered a wide variety of local, national, and international stories for ABC Channel 13. During her time with Channel 13, she also worked at Channel 8, where she produced and anchored a weekly 30-minute Spanish speaking program which, at the time, was unprecedented in the Houston television industry.
Through her experience in television and radio, she was one of two founders of Houston's first Spanish-language television station, Channel 45. Her devotion to her city did not stop at the end of her reports, as Ms. Barrera also donated much of her time and energy to the community. She was one of the founders of the Houston Hispanic Chamber of Commerce and moderated Viva Houston and countless other community affairs programs. Recently, she has worked to help underprivileged kids attend Houston's many cultural venues such as the Alley Theatre, the Symphony, and museums. This effort has resulted in a full-fledged campaign to raise funds to support Furr High School's recent designation as a fine arts magnet school. From this campaign, children from Houston's working-class families will have new opportunities to study the arts and culture.
Ms. Barrera's hard work and efforts have not gone unnoticed. She has been recognized with numerous awards for her television reporting and community service. In 2000, The National Association of Hispanic Journalists named her one of the inaugural inductees into its newly created "Hall of Fame," and the White House chose her as one of four local organizers of the first International Women's Conference, which hosted several former first ladies in Houston. Elma also received the Jade Award for Excellence from Women in Film & Television.
Elma passes her legacy of self-induced drive and ambition to the next generation of Latinos through the resources she has provided to the Houston community.